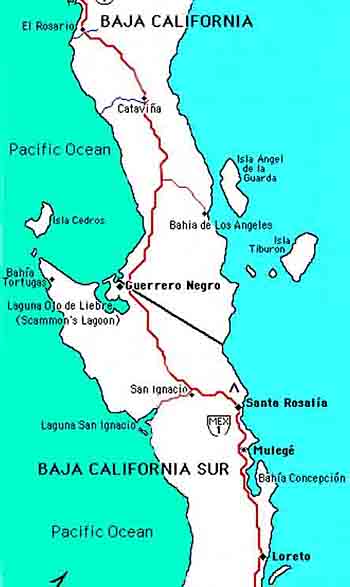 Day 2: Driving from San Diego:
ARRIVAL IN GUERRERO NEGRO
Leave Ensenada (or, San Quintin or, Catavina) in the morning. Traveling through Baja's magnificent landscape with unusual vegetation like giant Saguaro cactus, Boojum and Elephant trees, is an inspiring way to begin your adventure vacation.
On your way, you'll be able to stop at villages and buy fresh tortillas and fruit for your lunch.
Miramar staff will greet you at your hotel in Guerrero Negro, the town adjacent to Scammon's Lagoon.

Day 2: Driving from Loreto:
ARRIVAL IN GUERRERO NEGRO
The drive from Loreto to Guerrero Negro takes about 4-5 hours (270 miles).
From Loreto you will drive through the most spectacular part of Baja.
For almost half of the drive to Guerrero Negro, the Sea of Cortez will be on your right. You will pass through the town of Mulege with its magnificent palm tree oasis, and early 1700's Jesuit mission.
Next comes the town of Santa Rosalia wich has a small iron church built in France by the famous Gustave Eiffel, then brought to Santa Rosalia in the late 1800's, on tall-ships, around Cape Horn.
From Santa Rosalia you will turn inland and pass through the town of San Ignacio. It has its own palm tree oasis and probably the coolest old Dominican Mission in Baja.
Arrive in Guerrero Negro (where we will meet) and stay the night at a quaint local motel with a very good restaurant (you will probably arrive sometimes in the afternoon).

Day 3. Wake up at 7:AM and after breakfast, hop on the waiting shuttle to take us to Scammon's Lagoon for the first whale watching tour. We will be on the water, whale watching for 3 hours.
Return by 1:PM and after lunch, we will drive/caravan south (together) for an hour and a half, to town of San Ignatio.
After a brief break, and checking out the town's plaza with its late 1700s Dominican mission, we will continue for another hour and a half to our base-camp at the San Ignacio Lagoon.
At the base-camp we will use the rest of the evening to settle in the cabanas, and enjoy "happy hour" home-made margaritas and appetizers, followed by delicious Mexican food, cold beer, wine (or refreshments). Our base-camp will host you for two nights (or longer if you made arrangements).

Day 4. A scrumptious breakfast will be served after 7:AM, and your first whale watching tour will start at about 9:AM.
After two hours of whale watching you will return to shore for lunch and rest (time on your own to beach comb, read or, share your stories with the other participants) . Your second whale watching tour will start at about 2:PM. Two hours later return to shore for more "happy hour" and great sea food.

Day 5. After breakfast enjoy another whale watching trip in the morning (starting 9:AM). Upon return (and after lunch) you can start your journey back to Loreto, where you will stay the night (or half way to San Diego).

Day 6. Leave Loreto in the afternoon on Alaska or Delta (or, if you drove from San Diego, continue your journey back)
(Recommendation: If you are returning to Loreto, plan at least another extra day (or, more) to spend there, as it is a very cool little town, and a lot to do including activities on the Sea of Cortez i.e. fishing, kayaking, boating trip to the islands, possible viewing of Blue Finnback whales).